By Barrera Alcova
In the 1970s, the average internet user saw 500 – 1,600 ads daily. By 2017, the average American saw 4000 – 10,000 ads per day. Little wonder that internet users continue to develop a disdain for digital ads and wish to find ways to make their phones completely ad-free.
Regardless of the channel you engage with, there's no escaping ads — whether you're playing games on your iPhone, using social media, or reading a blog post. This creates a frustrating experience for many iPhone users who would rather completely block all ads. Thankfully, Apple is one of the leading companies that allow users to reduce ads.
But iPhone settings for reducing ads can't stop all ads, which is why we will discuss effective ways to make your iPhone completely ad-free in this post.
There are two ways to make your iPhone completely ad-free:
Enable iPhone settings to reduce ads
Install a reliable third-party ad blocker.
Enable iPhone settings to reduce ads
First, ensure that your iPhone is always updated. iOS updates often address security issues and provide improvements covering several features and functionality, which include giving users more control over ads. So, install software updates on your iPhone as soon as they are released.
Here are three iPhone settings that can reduce ads on your iPhone.
Block personalized ads
Personalized ads are arguably the most distracting because they are relatable to each user, and modern companies and marketing data suppliers take advantage of them to the fullest. Apple is not exempted. Apple shows personalized ads based on your interest and usage history, but you can turn off the personalized ads setting to reduce distraction.
To block personalized ads on your iPhone
Go to Settings | Privacy & Security | Apple Advertising
Turn off Personalized Ads.
Note: The Privacy & Security setting on older iOS versions is called Privacy.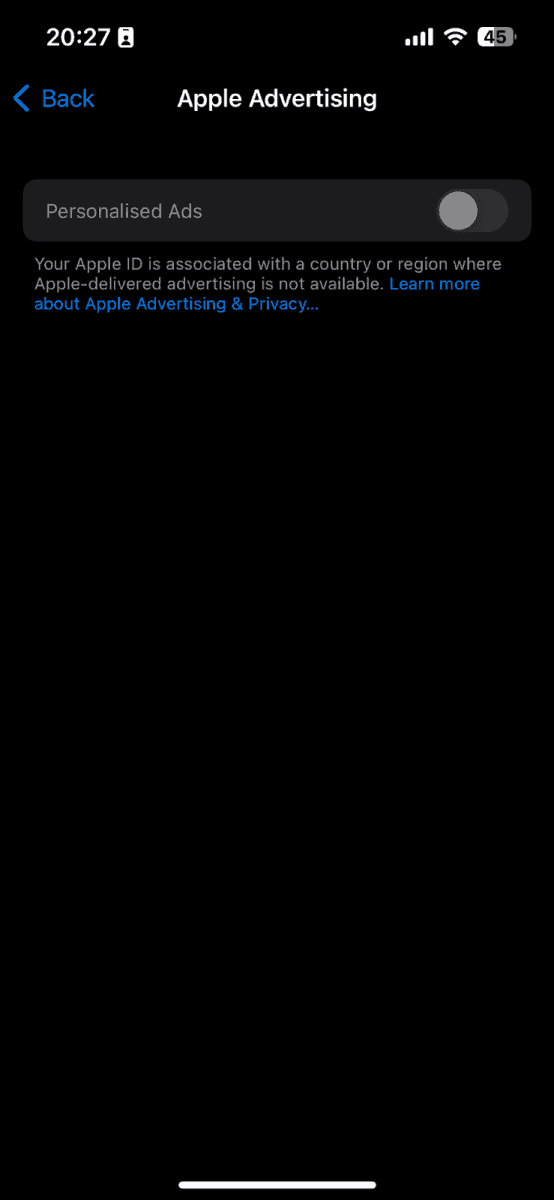 Block location-based ads
Apple, like other companies, also sends location-based ads to iPhone users. Many iPhone users are unaware their iPhone default settings give Apple — App Store and Apple News access to their current geographical location. Turn off location-based ads to stop seeing all geographically-targeted ads on your iPhone.
To block location-based ads on your iPhone:
Go to Settings | Privacy & Security | Location Services
Turn off Location Services to disable all location-based services except when using the Find My iPhone Lost Mode

OR

Select specific apps and set them to Never, Ask Next Time, When I Share, While Using the App, or Always.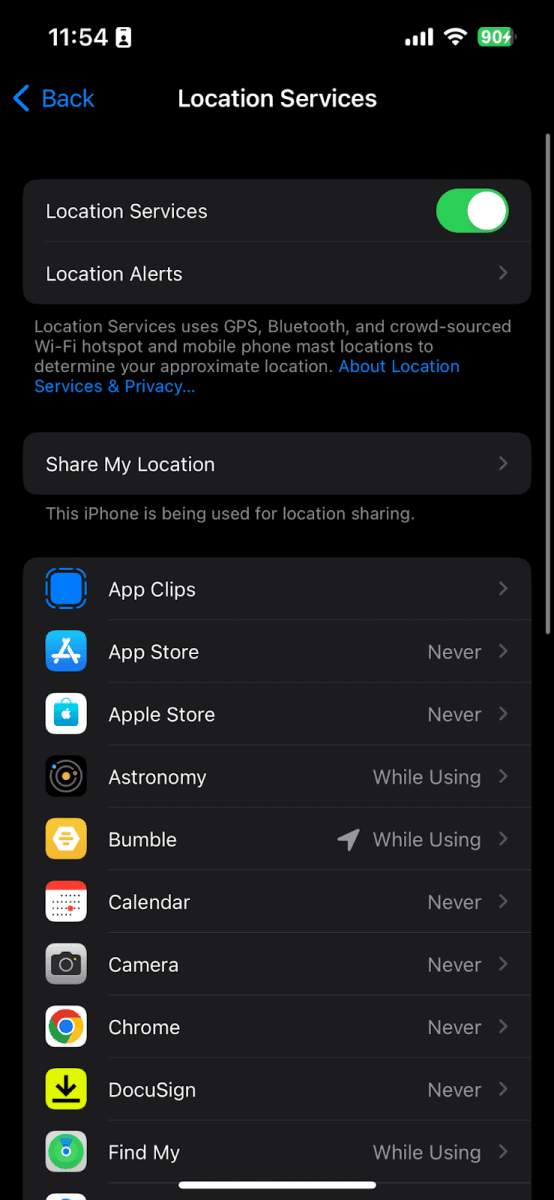 Block pop-up ads on Safari
Another annoying type of digital ads iPhone users are tired of is pop-up ads. Pop-up ads are not only distracting, but they are also often dangerous because cybercriminals use them to trick unsuspecting people into clicking on phishing content. Apple gives the power back to iPhone users by allowing them to disable pop-ups on Safari — all kinds of pop-ups, ads, alerts, offers, etc.
To block pop-up ads on Safari on your iPhone:
Go to Settings | Safari
Turn on Block Pop-ups.
Install a reliable third-party ad blocker
Now that we've discussed simple iPhone Settings that can reduce ads on your iPhone, let's talk about how to make your iPhone completely ad-free using the best ad blocker for iPhone. Clario has been named the "Uber of cybersecurity" because it allows users to secure their desktop and mobile devices. Clario gives users total control over their devices and provides an ad blocker feature to make your iPhone completely ad-free.
Good news — you will enjoy seven free days as a new user.
How to block ads on your iPhone with Clario
Go to App Store and install Clario
Sign up or log in with Apple ID, Google, or an email
Go to Settings | Safari | Extensions
Turn on Clario
Clario is a cybersecurity app that provides multiple features to guarantee a safe and secure digital experience across mobile and desktop devices. Besides the ad blocker feature that also provides anti-tracking, Clario has a secure VPN, data breach monitor, and other tools. Clario's main goal is to protect your devices from all types of cyberattacks and give you complete privacy and control over your device.
Using Clario with iPhone settings for privacy and advertising will make your digital experience on your iPhone more enjoyable.
---
The views and opinions expressed in this blog post or content are those of the authors or the interviewees and do not necessarily reflect the official policy or position of any other agency, organization, employer, or company.
---
---