We last reviewed iSpring Suite 8 in 2016, and it's been a while since then. During this time, the folks at iSpring have added a multitude of features to their flagship program, and it seems like a good time to review the new iSpring Suite 9.7.
My contact at iSpring Solutions Inc. for this review was Maria Varankina. Thank you for coordinating, Maria.
Download and Install iSpring Suite 9.7
You can download the installer for iSpring Suite from the iSpring site. If you have already bought a full- licensed version, the link to the installer can be found within your account on the iSpring site. Alternatively, if you want to test the product before making a decision, iSpring provides a fully-working 14-day trial version that you can again download from their site.
Once the installation is completed, you will be surprised to see the sheer breadth of programs installed. I found 12 shortcuts in the iSpring Suite 9 folder in the Windows Start menu, as can be seen in Figure 1, below.

Figure 1: iSpring 9 Start menu group
Also, the iSpring installer opens the Quick Start with iSpring Suite web page that includes the Getting Started video shown below, and many other tutorial videos that will help you use iSpring Suite efficiently.
At this point, it is important to understand that iSpring Suite 9.7 is an environment suited to create courses for eLearning. Most features are geared towards this objective. Yet, many users also take benefit of the amazing iSpring Content Library for their regular PowerPoint presentations. You'll learn more about these options later in this review.
Using iSpring Suite 9.7
You can launch iSpring in two ways:
You can click on the iSpring Suite 9 button in the Windows Start menu (see Figure 1), or
You can launch PowerPoint, from where you can bring up iSpring.
It doesn't matter what approach you take, because you will end up in PowerPoint either way. Yes, you must have PowerPoint 2007 for Windows or a higher version installed on your system to use iSpring Suite optimally.
Within PowerPoint, you'll find the iSpring tab of the Ribbon, as shown in Figure 2, below. Since the tab has many options, we rearranged all options in two rows, so as to show you all options.

Figure 2: iSpring tab of the Ribbon
Do note that the iSpring tab's options are neatly arranged in six groups:
Narration
Insert
Content Library
Presentation
Publish
About
We will explore all options within these groups.
1. Narration
The three buttons in this group are related to adding audio and video narratives to your iSpring courses. The first two buttons help you add audio and video recordings to your course, and need an attached microphone and video recording camera to function. Figure 3, below, shows the Record Video Narration window, opened after clicking the Record Video button.

Figure 3: Record Video Narration
Note that your slide notes are available in this window, and also within the similar Record Audio Narration window, opened after clicking the Record Audio button.
Once you have recorded your video or audio, the resultant content can be accessed by clicking the Manage Narration button, which brings up the iSpring Narration Editor that can be seen in Figure 4, below.

Figure 4: iSpring Narration Editor
Within the iSpring Narration Editor, you can both preview and edit your narrations.
Where Are The Narrations Saved?
Before we explore other iSpring options, let us find out where your audio or video narrations are saved. To find these narrations, you need to visit the folder where your original PowerPoint file is saved. Within this folder, you will find a subfolder of the same name as your PowerPoint file that contains all narrations and any additions you create using the iSpring Suite, as can be seen in Figure 5, below.

Figure 5: iSpring Files
2. Insert
The Insert group lets you add many interactive and media components to your course. Some of these components are also directly accessible using the iSpring 9 Start menu group, shown in Figure 1, previously on this page.
Let us explore these options:
Quiz: Clicking the Quiz option brings up iSpring QuizMaker, an application that's part of the iSpring Suite, and can also be run as an individual standalone program (see Figure 6).

Figure 6: iSpring QuizMaker
You can create a new quiz or open an existing quiz. iSpring has detailed video tutorials available on their site for QuizMaker. Plus, they also provide sample quizzes and other files you can use as a starting template.
When you are done, click the Save and Return to Course button, as shown highlighted in red with Figure 7, below.

Figure 7: Save and Return to Course
You'll see the quiz inserted in your PowerPoint slide, as shown in Figure 8, below.

Figure 8: Quiz in PowerPoint
Do note that this quiz will not play in PowerPoint's Slide Show view. To view and take part in this quiz, you will have to choose the Preview option, or publish your slides within iSpring.
Interaction: Clicking the Interaction option brings up iSpring Visuals, another application that's part of the iSpring Suite. This again, can be run as an individual standalone program (see Figure 9). We have opened an existing interaction, and will have to click the Save and Return to Course button, as shown highlighted in red with Figure 9 to go back to PowerPoint.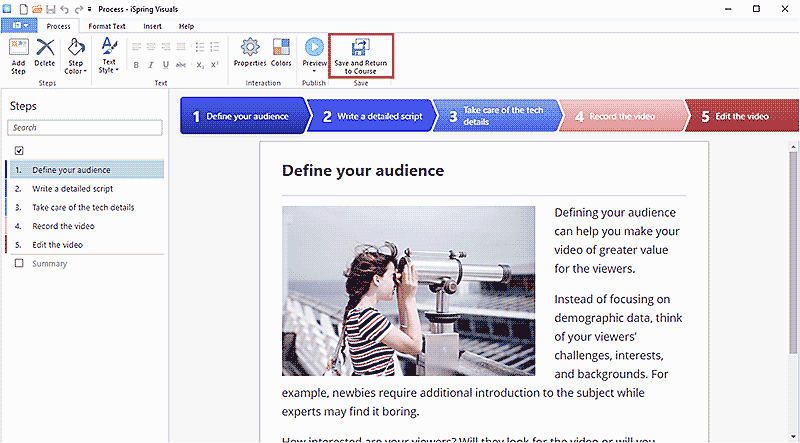 Figure 9: iSpring Visuals
Dialog Simulation: Clicking the Dialog Simulation option brings up iSpring TalkMaster, yet another bundled application that can also be run as an individual standalone program (see Figure 10). We have opened an existing dialog simulation, and will have to click the Save and Return to Course button, as shown highlighted in red with Figure 10 to go back to PowerPoint.

Figure 10: iSpring TalkMaster
Screen Recording: Clicking the Screen Recording option brings up iSpring Cam Pro, another application that is part of the iSpring Suite. This program can record onscreen activity, and can also be run as an individual standalone program. What's amazing though is the fact that this is not a small companion program but a full-blown app that anyone could use even if the activity was not part of an iSpring eLearning project. Of course, iSpring Cam Pro creates professional output that shows onscreen recordings within your iSpring projects with ease.
YouTube: This option allows you to insert an online YouTube video within iSpring project.
Web Object: This option allows you to show a web site within your iSpring project.
3. Content Library
The Content Library group contains options to insert slide templates, characters, backgrounds, objects, and icons. To preview most of these objects, you need not use iSpring's preview options or publish your course. In fact, many of these options can also be inserted in normal PowerPoint slides that are not intended to be published as eLearning courses. However, most of this content is designed to be used in eLearning courses.
Slide Templates: You can download some amazing slide treatments, which can be used as a starting point. Change text and pictures in the downloaded slides. You get slides in Opening, Navigation, Sections, Content, and Closing categories (see Figure 11).

Figure 11: iSpring Slide Templates
Characters: Clicking this option brings up the Characters dialog box that you can see in Figure 12, below.

Figure 12: iSpring Characters
Once you choose a character, you are led to another screen where you can choose a pose (see Figure 13). Unfortunately, you cannot choose multiple poses to insert at the same time, and have to select one pose at a time.

Figure 13: Choose a character pose
Backgrounds: Once you add a character of a doctor or a nurse, you may want to add a background of a hospital or a clinic. These and many other backgrounds are accessible via the Backgrounds option (see Figure 14).

Figure 14: iSpring Backgrounds
Objects, and Icons: Objects are photo-objects with backgrounds removed. iSpring also provides a simple icon library.
4. Presentation
This group has three options: Slide Properties, Presentation Resources, and Player.
Presentation Resources: Clicking this option brings up the Presentation Resources dialog box, as shown in Figure 15, below. If no presenters are added yet, you can click on the Add button to insert a presenter. You'll also find options to Delete and Edit presenters. If you use the same presenters for other courses, you'll be glad to discover the Export and Import options to quickly bring in all your presenters.

Figure 15: Presentation Resources
Slide Properties: Once you have added presenters, you can add different presenters to each individual slide within the Slide Properties dialog box shown in Figure 16, below. Additionally, you can choose an automatic advance time, branch slides (to the next slide, any other slide, or close the slide), change layouts and do many more changes with slide properties.

Figure 16: Slide Properties
Player: Brings up the Customize Player dialog box, shown in Figure 17, below. Options here allow you to add your branding to the Player and also customize layouts, panels, visibility of bars and other interface elements, and more.

Figure 17: Customize Player
5 and 6. Publish and About
Let's now explore the remaining options within the last two groups, Publish and About.
Preview: The Preview option includes several sub-options, as shown in Figure 18, below. This is a great option for you to view your course without publishing. You can choose to Preview from this slide, which does not preview any previous slides within your course, or you could choose the Preview Selected Slides, in which case, you can select individual slides in PowerPoint's Slide Sorter view, and then preview. Finally, you can choose the Preview Entire Presentation option, which previews all slides in the course.

Figure 18: Preview
Publish: The Publish dialog box, shown in Figure 19, allows you to publish your course through several outputs, such as a local file, iSpring's own delivery platforms such as Cloud and Learn, Learning Management Systems, and on YouTube.

Figure 19: iSpring Publish
Options and Updates: The Options button brings up a dialog box that allows you to change some iSpring settings, while the Updates button checks if a newer version of iSpring is available to update.
Help: This brings up a menu with many help options, as shown in Figure 20, below. As you can see, iSpring has a vibrant help community, supplemented by help articles, documentation, video tutorials and more.

Figure 20: iSpring Help
Conclusion
It is apparent that when you use iSpring Suite, you are not just using a simple PowerPoint add-in. Around the PowerPoint foundation, iSpring has created an entire eLearning ecosystem that provides you with everything you need. Yes, you may still need image and video editing options, but you may be using media that's already created, and PowerPoint is getting better at editing images and videos with each successive update. So, iSpring Suite is a concept to delivery solution that's amazing in its scope and efficient in its performance.
You May Also Like: iSpring Suite eLearning Authoring Toolkit for PowerPoint: Conversation with Slava Uskov | Displaying Tweets in PowerPoint Using DataPoint
---
---