By AlexAnndra Ontra and James Ontra
Enhanced by Geetesh Bajaj
This post is part of a series on Presentation Management, and is the sixth post in this series.

Here are links to the previous posts:
This set of serialized posts is based on original content, the Presentation Management: The New Strategy for Enterprise Content book, authored by AlexAnndra Ontra and James Ontra.
When we talk about presenters in this book, we are referring to people who want to drive action. In business, this is often the salesperson, but it really can be any leader in the company. Leaders at all levels, from middle management to the C-suite, need to motivate people to act.
And whether that act means getting someone to buy the company's products, invest capital in the company, contribute great ideas to a project, or learn something new and therefore become a better, more productive employee, presentation management strategy will raise everyone's ability to present better, to act better. Presentation management is empowering because it increases productivity and confidence.
Productivity
As U.S. Bank's Scott Welvaert said,
The time required to put together presentations after implementing a presentation management solution dropped from five hours to five minutes.
In its most basic form, presentation management empowers presenters to easily find and reuse compliant content for their specific meeting. So the tedious hours employees would have spent searching around the network for existing content or writing and designing content even when that's not their skill set, become a simple keyword search.
Type in a few words, find the right slide and drag and drop it into a new presentation. The four hours and 55 minutes saved can be better spent learning more about a particular client and building new relationships with new clients. The presenters have more time to actually conduct their business.
Presentation management gives the marketing and compliance departments – who typically create content — an effective means to distribute their work, ensure its use and reuse, and track slides and files to see what's resonating in the field.
The company can control content to ensure that everyone is using the right, up-to-date content with the proper brand standards, messaging and disclosure statements. Those departments no longer lose days derailed by last-minute requests, "Hey, can you help me find that slide? I have a meeting in 20 minutes and I need some data on product AA."
Confidence
A smart presentation management strategy ensures a content repository that is accessible on the fly. Wherever you are, whomever you are with, it gives you quick access to critical company information. You are empowered to speak intelligently, and correctly, about any aspect of your company's business.
All good salespeople prepare for meetings, of course. They study their client's business and study the company's products to ensure that they are offering – presenting — the best solution for that client. But clients throw curve balls. There's always that one question, "Our problem isn't so much about AA but really about BB." Even if you've spent weeks researching AA for this meeting, with presentation management, you can switch gears and discuss BB with that client. All the BB content is accessible. So as a speaker, you don't have to miss a beat.
With that arsenal of company information supporting you, you don't have to bluff or give that meeting-killer response, "I'll get back to you on that later." You can instead lead a deep, interactive discussion with your client.
When the client asks a question, whether you were prepared for it or not, you can still answer correctly and intelligently. Question and answer leads to more discussion, more active participation from the client. When the client is talking, you are learning more about her business. What you home in on from her feedback, you can then turn into a better solution, and tell a better story about how you can help them – a story that sells.
So now you've spent less time creating a riveting and compliant presentation that actually encourages deeper discussion with your client. Through this process, you've built more credibility and trust. Clients who trust you buy from you. Colleagues who trust you work harder for and with you.
Who in your company communicates instinctively, naturally? The CEO. CEOs can field any question about any aspect of the business, right off the cuff. They are charismatic, natural storytellers who motivate those around them, whether they are customers, investors or employees. Their knowledge affords them credibility. Their stories inspire. That's why they get named as CEOs!
A well-executed presentation management strategy helps everyone at the company speak with the dexterity of the CEO. It combines the detailed information needed to inform, with the storytelling needed to inspire and the flexibility to present anywhere, anytime, with anyone – just like a skilled CEO.
Takeaways
Let us now look at what we learned in the six posts on Presentation Management released so far.
Presentations are made to communicate important ideas and motivate people to act. The actions could be to make a purchase, learn something new, or participate in a project. They are created to move someone to do something.
Most companies have a mess of PowerPoint and other files tangled on their networks. Embedded in these files is great information, but no one can find it. Presentations are a grossly wasted resource.
Presentation management takes one-and-done files and transforms them into enterprise assets.
Presentation management empowers presenters by giving them more confidence and making them more productive.
Visual communications are more powerful than words alone. We respond to pictures, especially pictures that depict emotion.
In the next part of this series, we will explore how AlexAnndra Ontra and James Ontra teamed up to develop the concept of enterprise presentation management.
---

AlexAnndra Ontra, co-founder of Shufflrr, is a leading advocate for presentation management. She has been providing presentation technology and consulting services to global enterprises for over 15 years.
At Shufflrr, Alex advises Shufflrr clients through the process: from trial, to content architecture, through the launch, training and then on-going software upgrades. She's hands-on. She is a leading expert in presentation management strategy, implementation, and adaptation.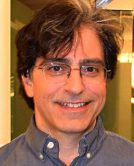 James Ontra is co-founder and CEO of Shufflrr.  His 30-year career has focused on the highest profile presentations for world class companies.  His clients have included:  American Express, Bloomberg, Epcot Center, Mercedes Benz, NBC Olympics, Warner Bros. and many more.
His vision and strategy have been driving Presentation Management to become a recognized communication discipline.  James combined this passion with technical development to build Shufflrr. Presentation Management is smart communication strategy.
---
---