An Indezine reader for many years, Pam reached out with a slightly long question:
Do you know why Microsoft offers both Widescreen and On-screen Show (16:9) options in the Slide Size dialog box? The difference, as you know, is the measurement in inches. Widescreen uses a Width x Height measurement of 13.333 x 7.5 inches, whereas On-Screen Show's size is 10 x 5.63 inches. But does that difference actually mean anything? I've found, that once you go into Slide Show view, both settings use the same 16:9 aspect ratio and look exactly the same. So why do the actual inches matter? I don't understand why both options are there.
So, here's my answer: As you point out, the difference is in the measurement.
At first, PowerPoint only had the 10×5.63 inches option—which was not so useful, since rather than making a larger slide, it ended up creating a slide smaller than the Standard 10×7.5 inches slide.
So Microsoft added the true Widescreen, that's 13.333×7.5 inches.
By that time, many people were already using the 10×5.63 inches setup, and so, for compatibility reasons, they retained that smaller Widescreen size as well.
Pam was not convinced. So here's the reply I received: I still don't totally understand why Microsoft even bothered with the 13.333 x 7.5 inches. I mean, the 10 x 5.63 inches size retained the width of Standard 4.3. The newer Widescreen retains the height of Standard 4.3. Since it's all the same once a slide is launched in Slide Show view (both Widescreen and On-screen show sizes being 16:9), there doesn't seem to be a practical difference. Maybe, there is a practical difference in terms of a workflow that I'm just not seeing? Some people have to create company branded templates in both 4:3 and 16:9, and I can't figure out why it's better to make the 16:9 version at 13.333 x 7.5 inches instead of 10 x 5.63 inches. Is there a difference in how one would look on screen?
So here's my reply: The main reason I considered 10×5.63 as not good enough is that it resizes everything–you will end up resizing 30 pt text so that it becomes 22.5, and it can be worse with font sizes in charts.
Font sizes relate more to the height of the slide rather than the width—so the new 13.333×7.5 is better that way because it retains the original height, and thus, the original point sizes.
It may not make too much difference in how the finished slide looks, but the premise of a Widescreen size is that you end up with more screen real estate and not less.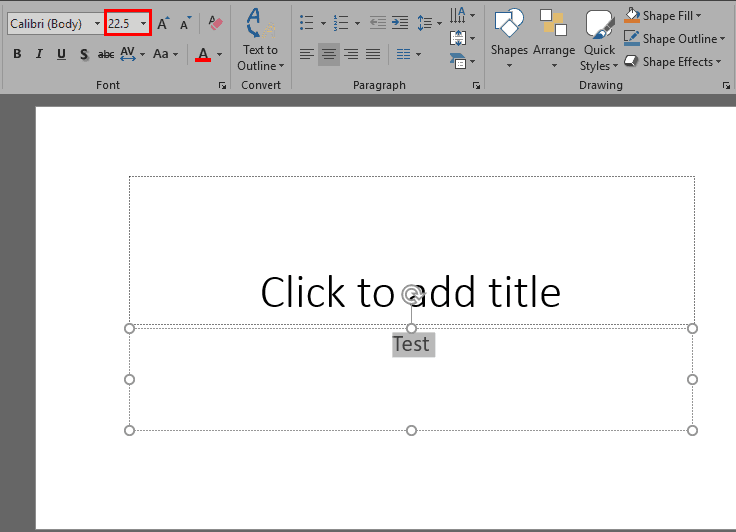 OK, so finally Pam was convinced: That makes a lot of sense! Thank you for your clear and concise description. I really appreciate it. It seems like 10 x 5.63 inches should be retired in favor of 13.333 x 7.5 inches as a best practice, where and when it is feasible in one's workflow. Thanks again for all your fantastic expertise!
Note
Do you want to learn more about this topic? A detailed answer is already available on an Indezine tutorial page called Widescreen Implementations in PowerPoint.
Also, note that on Retina display-equipped Macs, the widescreen size for a PowerPoint slide is twice the size as the Windows version at 26.666 X 15 inches.
---
---