As part of our very popular series on timelines that are "different", let us now explore our fifth, different timeline! In this series, we are not exploring the "best" timelines that you can add to your slides. And realistically speaking, it was a conscious decision to choose "different" rather than "best" for this series because we wanted to bring you timeline slides that are not seen too frequently; and thus, will stand apart from the commonplace.
Our fifth timeline slide is from PresentationLoad, a slide vendor based out of Nierstein, Germany. My contact was Frank Hodrea.
So how is this timeline different than the typical timeline slide? First of all, this timeline is so much more visual that most timelines. Also, it makes the best use of the larger width of the widescreen aspect ratio to fit in so many pictures! PresentationLoad calls this a Company History Timeline.
Although all pictures are grouped, you can still change them individually because newer versions of PowerPoint let you change pictures, even if they are within a group. And if you don't want to change pictures, PresentationLoad seems to have carefully chosen neutral pictures that will work in most scenarios! All put together, this is a set of 28 slides, and 27 of them have editable timelines!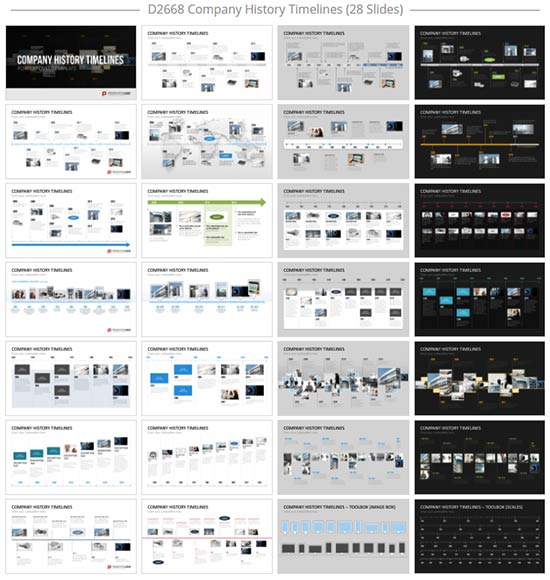 Template Link | Aspect Ratio: Widescreen (16:9) and Standard (4:3)
If you have found a timeline template that's different than others, do let us know by adding a comment. Also, if you are a vendor who wants their templates to be featured as part of this series, do get in touch with us via our feedback form.
See More Timelines that are Different: 01 | 02 | 03 | 04 | 05 | 06 | 07
---
---