We have already explored two timelines that are different than the typical straight-line timelines you usually encounter in PowerPoint slides. And while straight timelines are great, and must be used if you have ten or more time values, there are opportunities when you can benefit from a differently styled timeline.
Our third, different timeline is from PoweredTemplate, a slide vendor based out of London, UK. My contact was Joanna Miller.
Look at this timeline template carefully. PoweredTemplate calls this a Timeline Concept.
You can use up to six time values. The slide you see above uses a year for each time value, but you could use any other value you want. Notice that the timeline has been represented by bars that seem stacked up a wall, or rather two walls to create a 3D illusion. This allows you to add two text descriptions for each time value.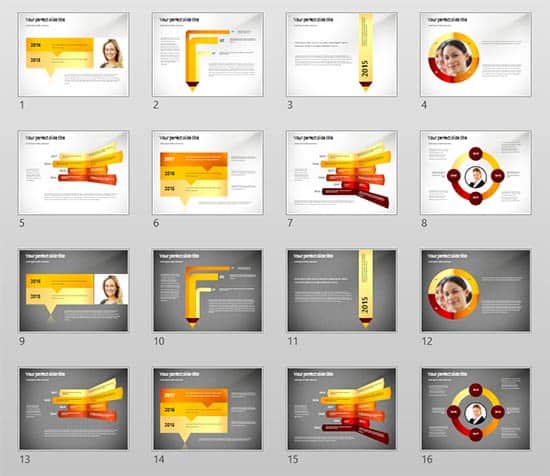 The actual deck you download has many more timeline variations included. There are 8 slides using both light and dark background variations.
Template Link | Aspect Ratio: Standard (4:3) Only
If you have found a timeline template that's different than others, do let us know by adding a comment. Also, if you are a vendor who wants their templates to be featured as part of this series, do get in touch with us via our feedback form.
See More Timelines that are Different: 01 | 02 | 03 | 04 | 05 | 06 | 07
---
---