Timelines are graphics that show a sequential happening of events—these events may be in the past, the present, or the future. Typical timeline graphics emulate a ruler-style measurement bar with text captions. The problem with these timelines is that they all look the same! If you have seen one, you have seen them all.
We already looked at a timeline slide that looked a little unconventional in the first post in this series. And now we will explore another timeline slide, from another vendor. This one is not only different in concept and appearance than the first sample we saw—but it is also different than the hundreds of other timeline slides you may have encountered.
Our second timeline sample is from My Product Roadmap, a UK-based design agency. My contact was Jon Heathcote.
Explore this particular slide template for a timeline. My Product Roadmap calls this a Ten Step Timeline.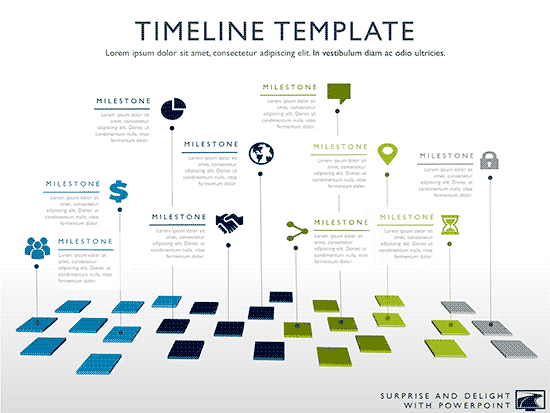 Each of the ten steps is identified as a milestone, and a grayed out version that shows just one step active is also part of the template, as shown in the figure below.
I suggest you use all the grayed out milestones in your slide, and then animate-in the colored milestones one after the other to use this template with even more impact.
Template Link | Aspect Ratio: Standard (4:3) Only
If you have found a timeline template that's different than others, do let us know by adding a comment. Also, if you are a vendor who wants their templates to be featured as part of this series, do get in touch with us via our feedback form.
See More Timelines that are Different: 01 | 02 | 03 | 04 | 05 | 06 | 07
---
---